HOME
HISTORY
*FORUM 2018*
NEWS & EVENTS
PHOTOS
CONTACT US


NEWS AND EVENTS


The Saskatoon chapter of the Federation had a very enjoyable time celebrating the Lunar New Year! Here are some pictures of their chapter holiday gathering for dinner and the Chinese New Year Gala.


---




We wish everyone a very happy Lunar New Year, the Year of the Rabbit! 'The sign of Rabbit is a symbol of longevity, peace, and prosperity in Chinese culture. 2023 is predicted to be a year of hope.'


---

The Toronto Canada-China Friendship Association was pleased to be able to offer a presentation by Dr. You-Zhi Tang. His topic was Landfill: Alternative & Proactive Strategies and Innovative Technologies for the Air, Land and Water both for Landfill and Land Use, and Some Examples of China's Practices and Initiatives. Click on the photo for a slideshow!


---

The Chinese economy achieved significant results in combating COVID-19 and promoting social & economic advancements in the first half of 2021. You can find more about this in the letter from Consul General Ms. LU Xu in the attachment, and other news from China via the following links:

Economic Watch: Global financial giants expand footprint in China amid further opening-up

Overseas investors swear by local stocks

The Ministry of Foreign Affairs Holds Briefing on COVID-19 Origin-Tracing for Diplomatic Envoys




---


This excellent presentation with important facts about the relationship. between China and Canada is available on YouTube. Chairing the panel was Dr. Wenran Jiang, Advisor, Asia Program, Institute for Peace & Diplomacy. Also speaking: PRC Ambassador Cong and Sheila Foster, President, FCCFA and CCCFA

Click the link to view the presentation: https://www.youtube.com/watch?v=SaVhj4kxUVo


---


The Beijing People's Association for Friendship with Foreign Countries will hold a webinar celebrating the 100th anniversary of the founding of the Communist Party of China, Tuesday morning, May 11, 9:30 a.m. (Beijing time). TCCFA president Warren Bethune is one of the speakers. Click the link for more details: https://federation.tripod.com/BeijingWebinar.html


---

To CCCFA and FCCFA members

We are sad to report that Sheila Power, long time member, treasurer and past president of CCCFA passed away last week. She also played a major part in the development and running of the Kerby Centre involved in senior affairs.

I accompanied Sheila on a couple of trips to China, including the memorable visit to Lhasa in Tibet. We had to search for just the right jade tiger on a red string for her grandson Mackenzie, about 8 at the time. Also I had to find a Yak Yak Yak T-shirt for her when she, and 10 of our party, was forced to fly out of Lhasa early due to high altitude sickness. I was tasked with also finding Tibetan necklaces in Lhasa market, for her two daughters Karoline and Beverley.

She was a devoted grandmother, taking each of her grandchildren on special trips, which I am sure were a highlight of their young lives. CCCFA owes a debt of gratitude for the many years of Sheila's service. Fortunately she was able to attend our 40th anniversary dinner a few years back.

Sincerely,

Sheila Foster, President Calgary CCFA


---


Chinese New Year begins on February 12. 2021 will be the year of the Ox, which brings career advancement, success in business, prosperity, and wellness for all zodiac signs. The Ox year of 2021 is under the influence of the metal element, just like the Year of the Rat 2020. We hope everyone is able to enjoy the occasion happily and safely.


---

Our Ottawa chapter has hosted another very insightful and informative webinar on September 10, 2020 with H.E. Cong Peiwu, Ambassador of the People's Republic of China, as our distinguished guest speaker. We greatly appreciate the opportunity to have heard first hand from H.E. Cong on a wide range of crucial topics on Canada-China relations. Thanks also to all our attendees from across Canada for your active participation and for your very positive feedback. Please click on the image to access the page where you can find the links to the full text of Ambassador Cong's keynote speech and a transcript of the entire Q&A session of the webinar.


---

Our Ottawa chapter has a very informative webinar by Professor Paul Evan entitled "What Does It Mean to be a Friend of China?". Click on the image to access the link!






The idea of friendship is a complicated one in international relations It is especially complicated in an era of heightened political tensions and raw emotions in interactions between Western countries and China in the context of complex differences in history, values and institutions.

The presentation will draw on the experiences and ideas of three individuals --John Fairbank, Pierre Trudeau, and Kevin Rudd--who in different periods and in different ways have advocated deeper contact with China even while holding deep reservations about major elements of China's domestic and foreign policy actions. What are the moral dimensions and practical implications of being characterized as a friend of China? What can we learn from the three about navigating the darkest period in Canada-China relations since the establishment of diplomatic relations?


---


Happy Chinese New Year to those celebrating the Spring Festival and the Year of the Rat! May you have a peaceful year full of good fortune!


---





We are very happy to welcome Saskatoon to our Member Associations. The Saskatoon Canada-China Friendship Association promises to be a very active part of the Federation and we can't wait to see what future events they will hold.

You can visit the Association's web site at http://www.tasteofchinaacademy.ca/sccfa.html.

You can learn more about the city at the official City of Saskatoon website, Saskatoon.ca .




---


From November 22 to November 27 the Chinese People's Association for Friendship with Foreign Countries will host the Friendship Forum in Haikou and an excursion to Sanya. The FCCFA has responded positively to their invitation and has assembled a delegation of ten people from across Canada! FCCFA will send a Canadian delegation of up to 10 members, representing the six Canada China Friendship Society chapters in this mission. Each Canada-China Friendship Society chapter will be allocated 1 or 2 delegates based on the 2018 FCCFA tour guidelines. Michael Copeland (from Toronto Chapter) and Amelia Choi (from Ottawa Chapter) are the Team Leader and the Deputy Team Leader of this Mission.




---


The Victoria Canada-China Friendship Association is having their Annual General Meeting, Dinner and Talk on Sunday, March 25, 2018 at the Island Wok Restaurant, 801 Vernon Ave., Victoria.

The AGM starts at 5 pm. Please arrive at 4:45 pm. For those of you who are interested in joining the board, please contact Andy Calder, Nominating Committee Chair at: andy.calder@bruker.com..

The inner starts at 6 pm so please arrive at 5:45 pm. It's a Buffet-style dinner and the price is $22 for members and non-members. The Speaker will start his presentation at 7 pm. Our speaker, Mr. Frederick Haynes, will present on "Opportunities Bringing Diversity Perspectives into the Decision Making Processes in Local Government, using Saanich as an Example".

RSVP: Please contact Carol at charlebois721@gmail.com. You can find more information at the VCCFA Web Site .


---

We're pleased to present the Australia China Friendship Society's China Ethnic Minorities Crafts and Festival Tour, led by world renowned expert on ethnic minorities Prof Colin Mackerras. Departing on 22th April 2018, it's a wonderful 13-day tour to Guangzhou, Guilin, Yangshuo, Longsheng, Sanjiang, Zhaoxing & Kaili!


---

(Pages 1-3) Voice of Friendship is the publication of CPAFFC in Beijing, circulated to friends of China around the world. This year they will celebrate their 60th anniversary in Beijing. Following is president Mme Li XiaoLin's article.

Also attached (pages 4-7) an article on Canadian descendants of prominent families visiting China, many of whom were the founders of our federation FCCFA.

Click on the picture to see a larger size.


---




The Ottawa Chapter presents: Engaging China: Myth, Aspiration, and Strategy in Canadian Policy from Trudeau to Harper . Professor Paul Evans Institute of Asian Research and Liu Institute for Global Issues, University of British Columbia. 7:30 p.m. May 20th 2014. Location: Knox Presbyterian Church. 20 Lisgar Street, Ottawa Refreshments and conversation following the presentation.


---


The Toronto Chapter presents Olivia Chow: On Being A Chinese-Canadian Politician on Sunday, May 4 at 2:00 PM at the OISE Building (Bloor/St. George). She will give a talk on her past experiences and then will take questions from the audience. Given the mayoral campaign, it will be a very interesting presentation.


---


The Calgary Canada-China Friendship Association presents the CCCFA Dinner on Monday, May 5th at Regency Palace t 335, 328 Centre St. SE. There is parking below the restaurant.
Please join them for an evening of good food and friendship at 6:05 p.m. On their recent visit to Ontario, Sheila and Ted Foster visited the Norman Bethune home and museum in Gravenhurst. Sheila will give a short presentation on this important Canadian hero and his life and work, especially in China. The cost is $20/adult or $23 non-member, $10 child age 6-10 and $5/child under 5.


---

CPAFFC "Voice of Friendship" publication reports on Forum2012 and Friendship Cities meetings

Click on image to view article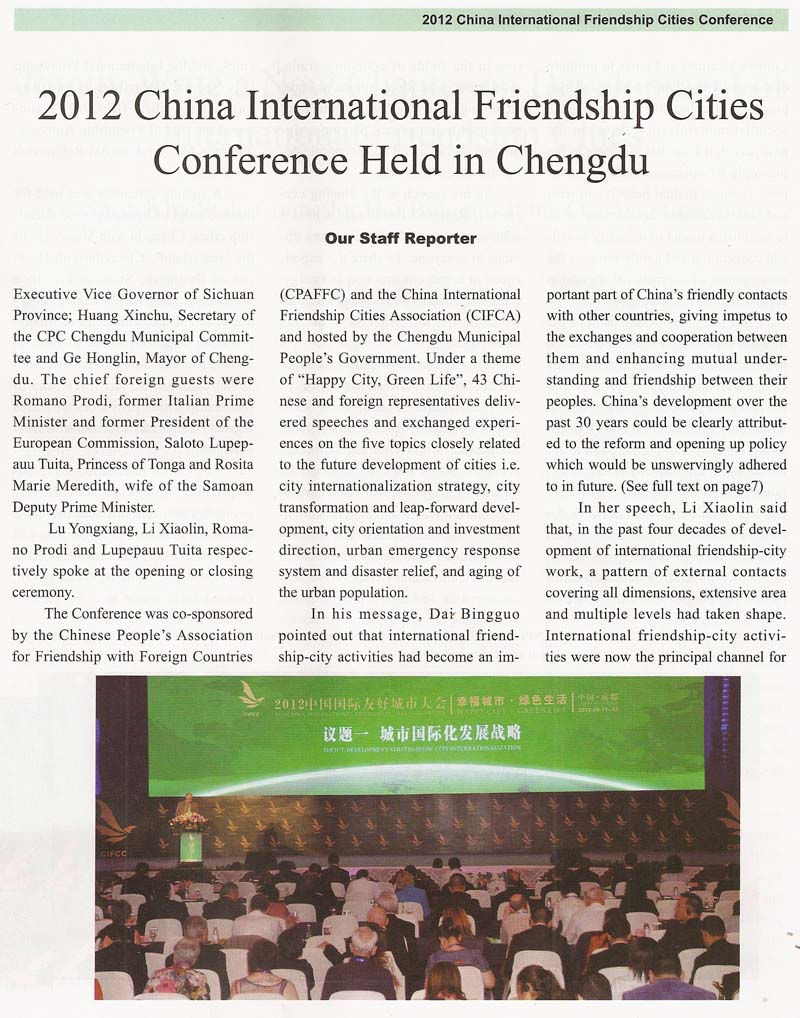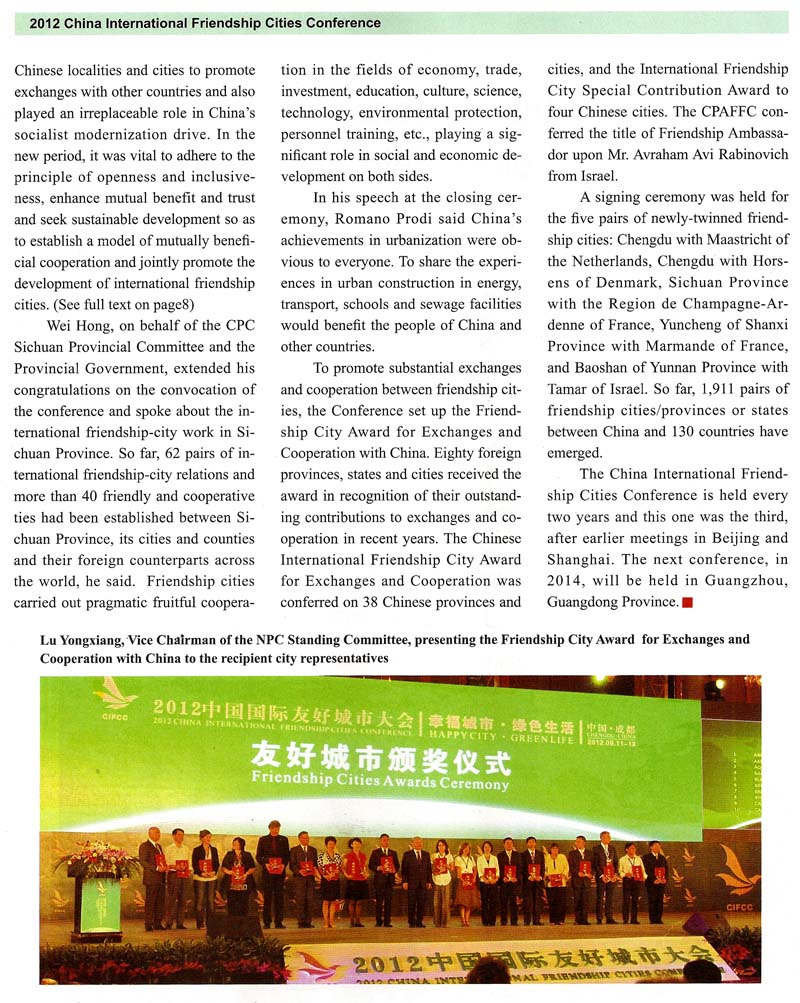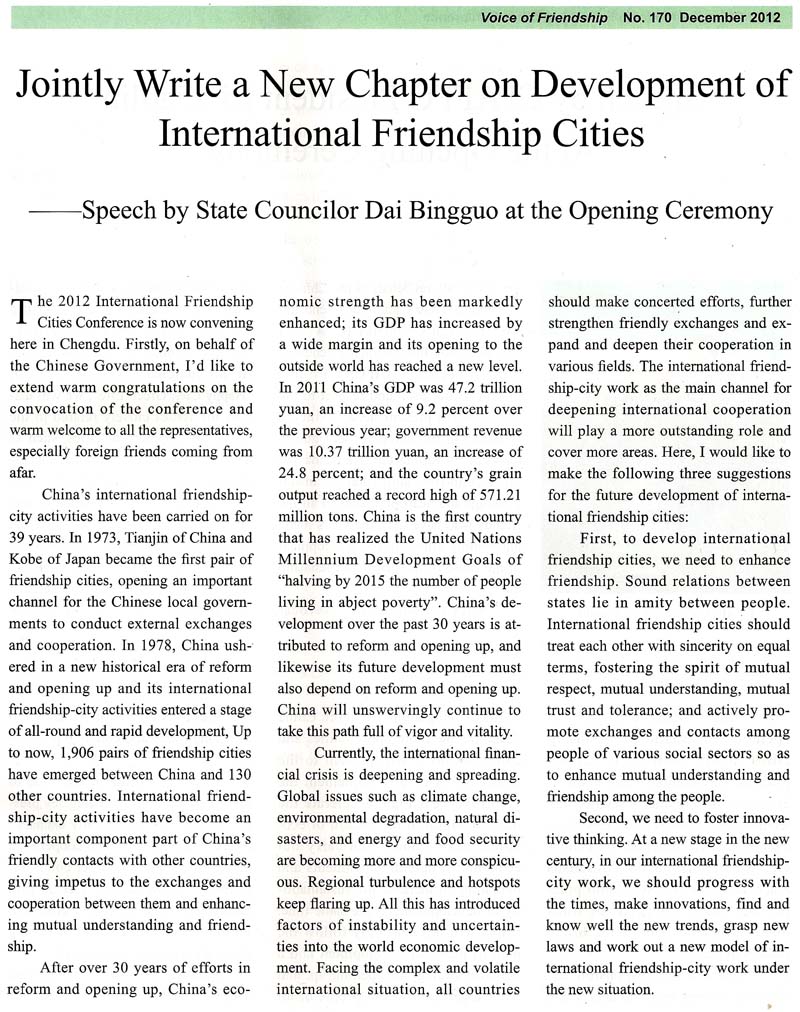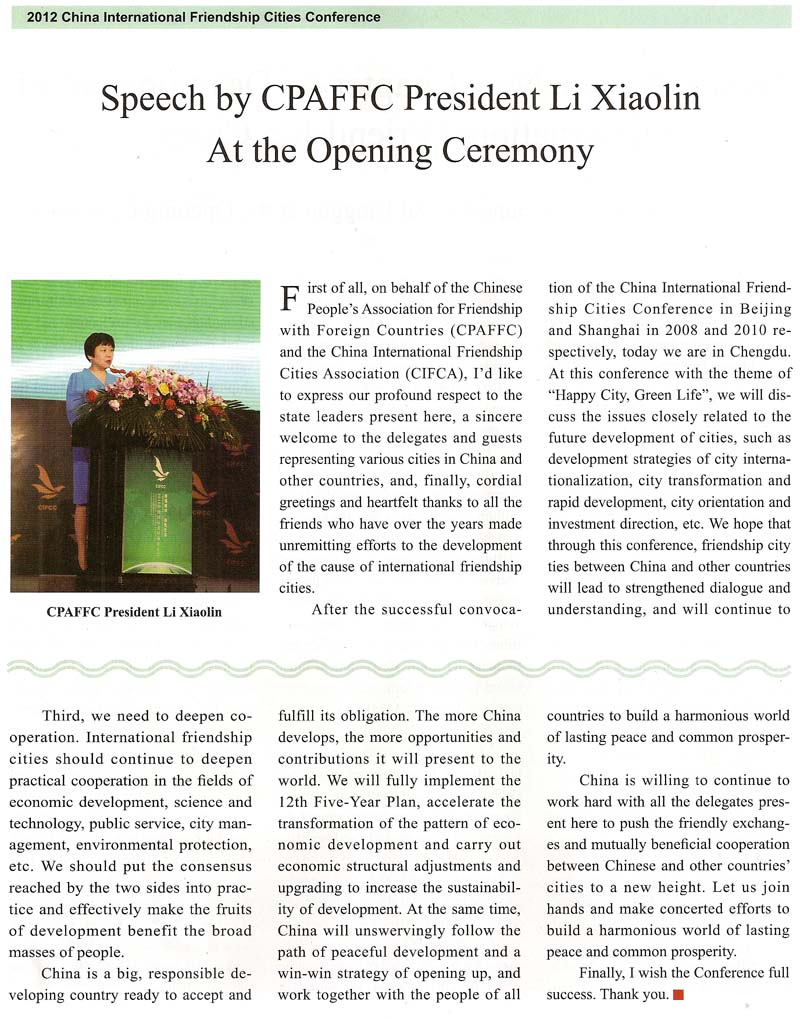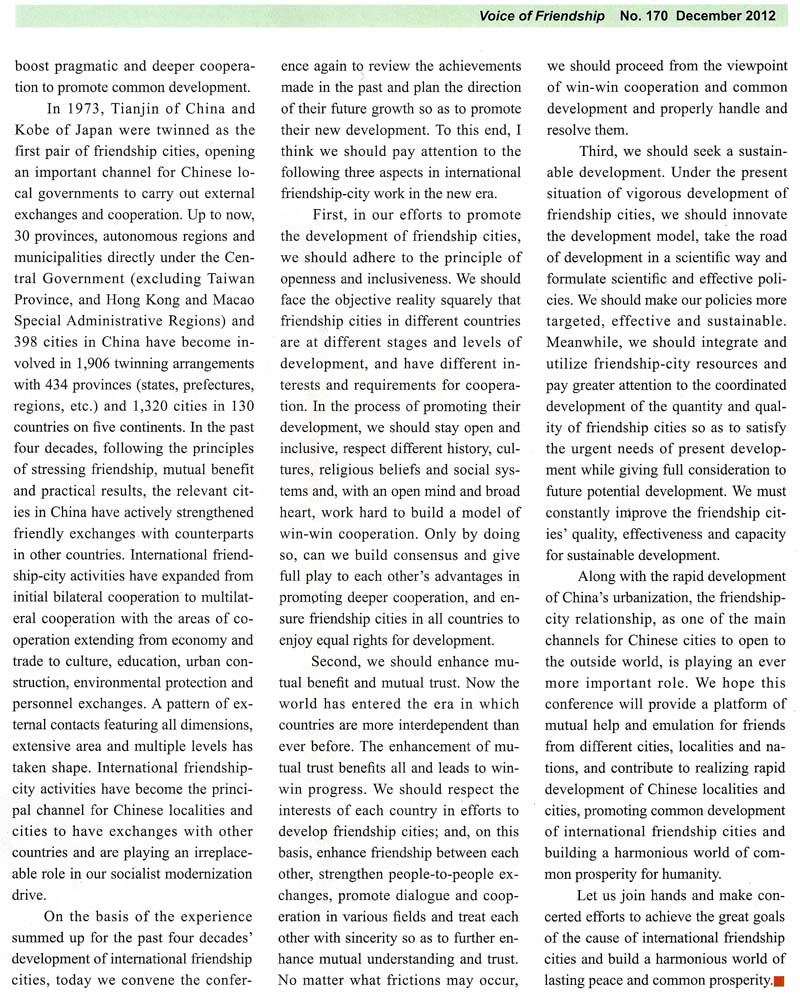 Diamond Jubilee Medal for Canada-China friendship to former FCCFA president Lolan Merklinger, see U.S. China Review, pp. 21-23 USCRFall2012_final.pdf ( 1 MB }

FCCFA delegation visits Shanghai and Jiangxi, September 7-17, 2010: Led by president Fred Drewe, a twelve-member delegation on the invitation by the Chinese People's Association for Friendship with Foreign Countries (CPAFFC) participated in the International Sister Cities Conference in Shanghai and the Fourth CPAFFC Friendship Forum in Nanchang, Jiangxi; the delegation then visited Lushan and Jindezheng in that province; a report and photos will follow.

FCCFA delegation visits Shanghai and Jiangsu, September 12-21, 2010: a four-member delegation, led by former president Lolan Merklinger and on invitation by the Shanghai People's Association for Friendship with Foreign Countries (SPAFFC) visited Shanghai. Two of its members later visited Jiangsu province on the invitation of the Jiangsu People's Association for Friendship with Foreign Countries (JPAFFC); report and photos to follow.


CCFS President Meets President Hu Jintao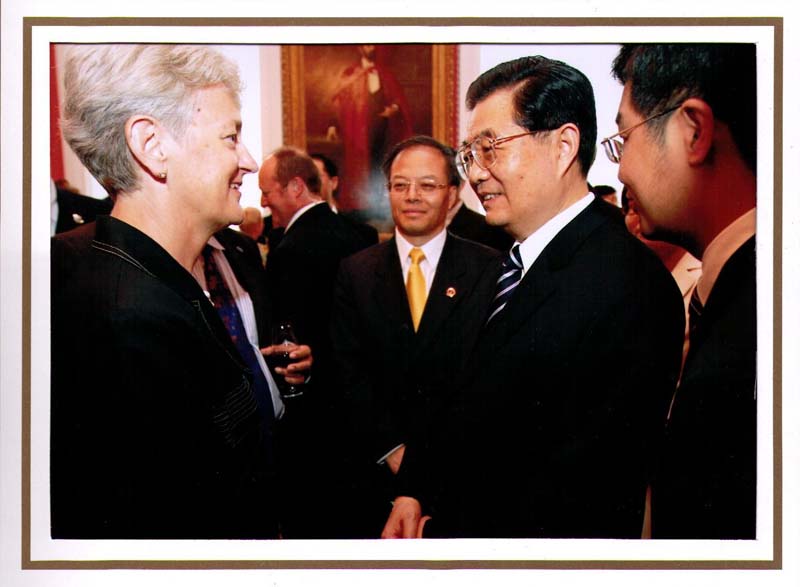 CCFS President, Lorraine Farkas, had the pleasure of meeting President Hu Jintao at a state luncheon of the Governor General in honour of the Chinese President on June 24, 2010. She was among about 65 other guests, including university presidents, politicians, professors, heads of various not-for-profit organizations and business people. A surprising number of attendees had just returned or who were going to China in the near future, including the Governor General herself and Mr. Allan Rock, University of Ottawa President. The CCFS-Ottawa is indeed pleased to have been invited to be part of this important event.


Summary of November 2008 Delegation and Forum (Peter Larson)

Chinese pragmatism article Peter Larson.doc


Voice of Friendship article on CPAFFC Canadian visit Sept 2008

Click on image to view article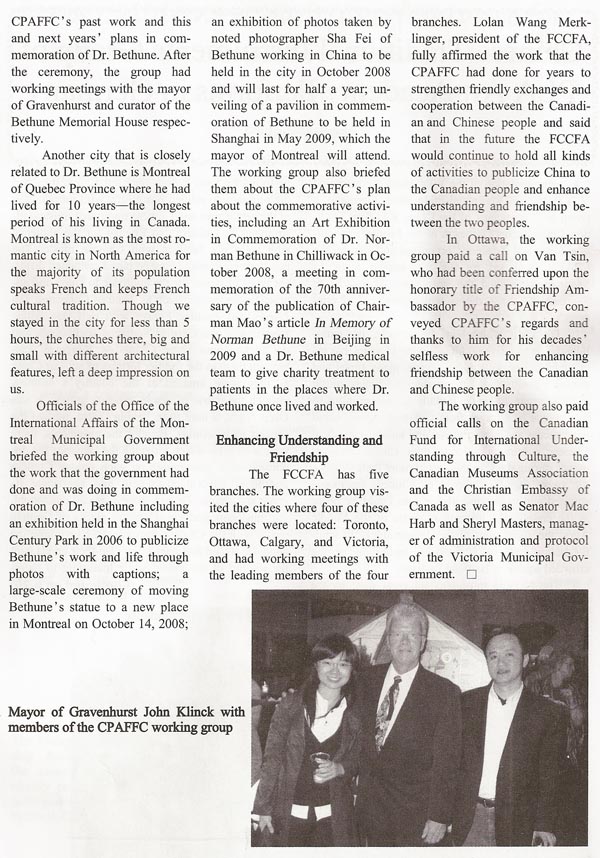 ------------------------------------------------

November 2008 Federation delegation visits Beijing, Hunan, Shanghai and participates in CPAFFC Third Biennial Friendship Forum in Hunan

An eleven-member Federation delegation drawn from five Canadian chapters visited China November 6-16, 2008 at the invitation of their host, the Chinese People's Association for Friendship With Foreign Countries. The delegation joined delegates of seven other countries in attending the two-day Chinese Friendship Cities Conference in Beijing November 8-9 and later participated in CPAFFC's Third Biennial Friendship Forum in Zhangjiajie, Hunan province (Nov. 12) where they were hosted by the Hunan People's Association for Friendship With Foreign Countries. During a two-day visit in Shanghai they were hosted by the Shanghai People's Association For Friendship With Foreign Countries.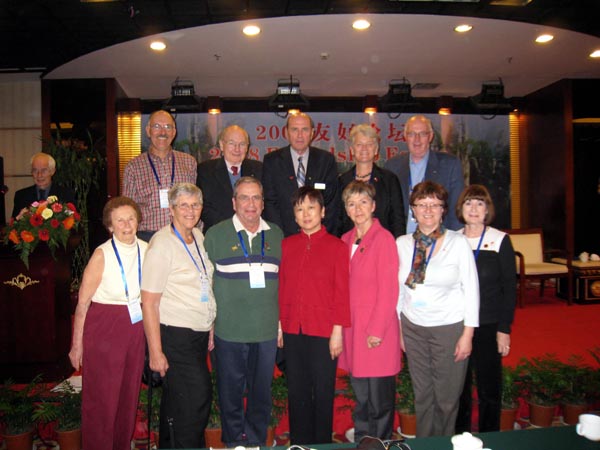 Canadian delegates with CPAFFC Vice-president Madame Li Xiaolin (centre); front row from l. to r. Joan Wicken, Gloria MacLeod, Michael Copeland, Mme. Li, Gilliane Lapointe, Morag MacLellan, Donna Lamb; second row Peter Larson, James Steele, Fred Drewe, Lorraine Farkas, Bob Raeburn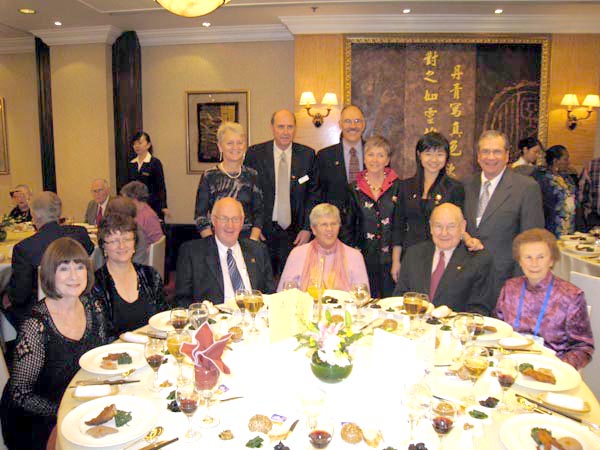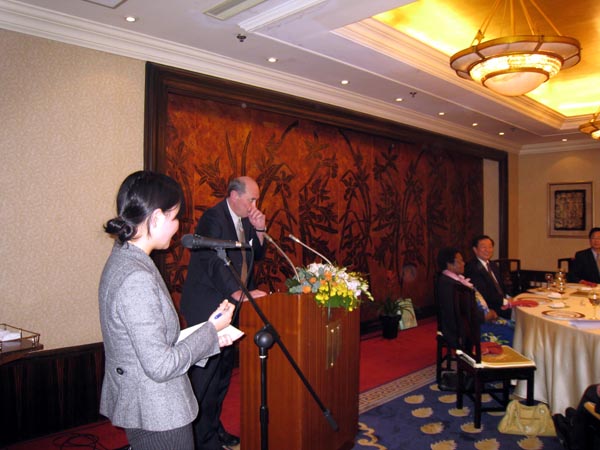 Shanghai Banquet

For the full itinerary of the Federation delegation visit to China in Microsoft Word format, click HunanForumItinerary(Final).doc .

------------------------------------------------

For photos from the October 29, 2008 Re-inventing Canada China Relations armchair discussion held at Carleton University, Ottawa, please see the following link http://bbs.comefromchina.com/threads/635408. Senator Hugh Segal was moderator; principal speakers were former Chinese ambassador to Canada Mei Ping, former Chinese ambassador to the U.K. Ma Zhenggang, current Chinese ambassador to Canada Lan Lijun, Gordon Houlden of China Institute University of Alberta, George Haynal of Bombardier. Ottawa chapter president Lolan Merklinger (and then FCCFA president) spoke at the reception on behalf of FCCFA. Ottawa chapter VP Gilliane Lapointe also attended.

------------------------------------------------

His Excellency Lan Lijun has assumed his post as the new Ambassador Extraordinary and Plenipotentiary of the People's Republic of China to Canada. Ambassador Lan and his wife Madame Gu Langlin arrived in Ottawa in early June.

Ambassador Lan was Deputy Director-General of the Department of North American and Oceanian Affairs, Ministry of Foreign Affairs, Beijing 1996 – 2000; Consul General with Ambassadorial rank at the Consulate General in Los Angeles; and Minister at the Embassy of the People's Republic of China in Washington, D.C., 2002 - 05. From 2005 to 2008, he was China's Ambassador to the Republic of Indonesia.

Mr. Lan Lijun was born in Jiangsu Province, China, on December 5, 1952. He graduated from Beijing Foreign Languages Institute in 1974 with a B.A. degree in English Literature and continued his postgraduate study at Queen's University and McGill University in Canada from 1974 to 1976, then at the Kennedy School of Government, Harvard University, where he received a Masters degree in Public Administration in 1999. Mr. Lan Lijun is married with a daughter.

------------------------------------------------

SEPTEMBER 2006 FCCFA DELEGATION VISIT TO CHINA WUHAN FRIENDSHIP FORUM & SHANGHAI PAFFC 50TH ANNIVERSARY CELEBRATIONS
Hosted by CPAFFC, Hubei and Shanghai Friendship Associations

Sept. 16: Wuhan Friendship Forum September 8, 2006, sponsored by the CPAFFC
Sept. 5: Canadian and other delegations arriving in Beijing, stay at Xinhai Jinjiang Hotel
Sept. 6: Touring program to the Forbidden City and the Great Wall
Evening banquet hosted by CPAFFC Vice-President Li Xiaolin
Sept. 7: Travel to Wuhan
Sept. 8: FCCFA president Lolan Wang Merklinger delivered a speech before the Second Biennenial Friendship
Forum in Wuhan on Canada China relations and the Federation's activities
Sept. 9-10: delegations visiting Shiyan and Xiangfan cities, Hubei Province
Sept. 11: fly from Wuhan to Shanghai; stay at Shanghai International Equatorial Hotel,
Sept. 12: AM visits to the City Urban Planning Hall and the Oriental Pearl TV Tower PM attending opening ceremony of Shanghai International Children's Photo Exhibition, 16:30 delegation heads meet with city leaders at Hongqiao Guesthouse 18:00 attend Gala reception for 500 guests celebrating the 50th anniversary of the foundation of SPAFFC at Shanghai International Convention Centre, co-hosted by CPAFFC President Chen Haosu and SPAFFC President Zhou Muyao
Sept. 13: visiting Shanghai Yang Shan Deep Water Harbour, in Nanhui District Evening attending grand art show in celebration of SPAFFC 50th anniversary celebration
Sept. 14: 15 visit Hangzhou
Sept. 16: conclusion of visit


---




Home || History || News || Photos || Contact ||